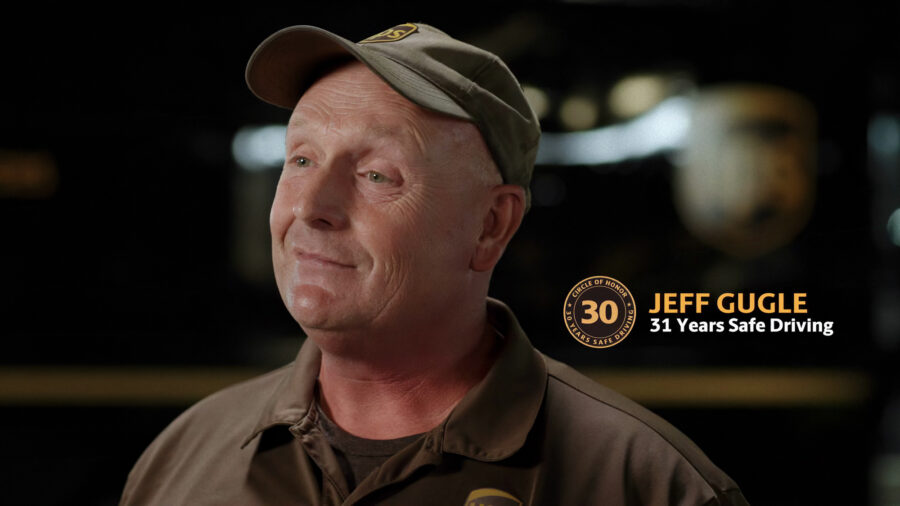 UPS | Commercial Industrial
SUITE! Creative and Post | JACENKNET
Crew
Jason Kraynek – Director of Photography, Camera Operator, Gaffer, Production Company
Phil Olshanski – Director, Editor, Producer
Guillaume Le Mezo – Camera Operator
Jarrett Wadley – Grip
Robert Aguilar – Audio Operator
Chad Halvorsen – Drone Operator
Meg Best – Art Director
Hannah Fitzgerald – Art Director
Cassie Wright – Photographer
Tyler Delawder – Video Producer
Karen Hill – Executive Producer
Michael Scott – Executive Producer
Gear
CAMERAS – Canon c300 mark II, Canon c300 mark III, Canon c70
GIMBAL – Ronin S2
DRONE – DJI Inspire 2
LIGHTING – Aputure, Litepanels, Kinoflo, Quasar Science
At UPS, we have the safest drivers in the industry – just look at Palatine, Illinois, a UPS facility with one of the highest volumes of Circle of Honor drivers in the world. This elite group of drivers have driven 25+ years accident-free, creating our unmatched safety culture.
Today, more than 10,400 UPS drivers around the world have driven for the company for 25 years or longer without an accident. Which, is about 15 billion miles without so much as a fender-bender. You can tell who has earned the distinction by the Circle of Honor patch they wear proudly on their sleeve.
Take a look at the elite group of UPS Safe Work Heroes. These mechanics and porters from around the world have worked at least 5 injury-free years and now proudly wear a patch showing off that honor.
Shot over the course of 5 days at different locations around Illinois including the Boys & Girls Club, Historic OTTO Building, UPS Palatine Facility, and UPS Jefferson St. Facility. First time working with Phil Olshanski from SUITE! Creative and Post out of Atlanta, great guy and pleasant production. Alot of run-n-gun with a small crew dividing up segments and shooting in tandem throughout the days. The footage was made into 2 different campaign videos and highlighted on the UPS official site under "Our Drivers Rock" and "New badge of honor celebrates workplace safety at UPS".