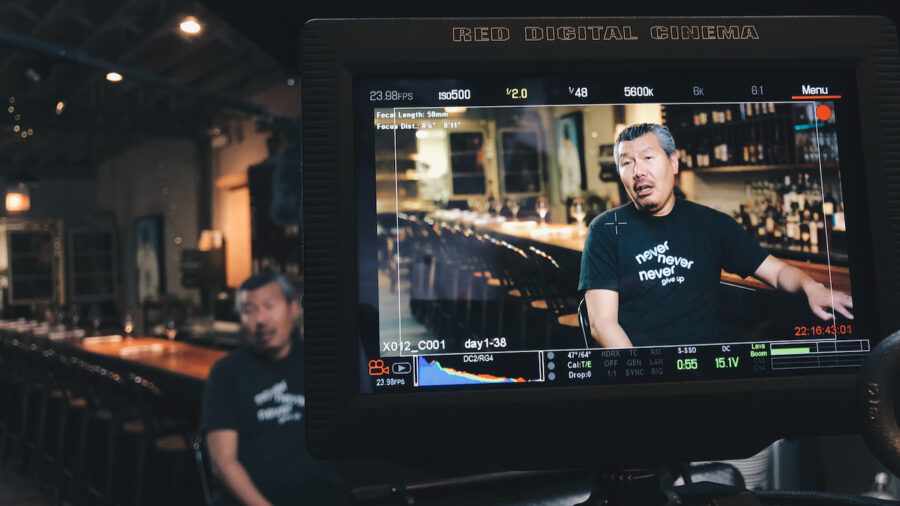 Without a doubt, the results he attains are nothing short of amazing. He has a unique perspective that drives his creativity in directions that are special in so many unexpected ways that the results are always eye-catching, intensely interesting, and commercially desirable.
I have worked with Jason in his capacity as a cinematographer and photographer, and, without a doubt, the results he attains are nothing short of amazing. He has a unique perspective that drives his creativity in directions that are special in so many unexpected ways that the results are always eye-catching, intensely interesting, and commercially desirable.
I would consider myself lucky to be able to work with Jason on future projects. As to the attributes listed above, I would like to add that Jason is also superlatively personable while on the set, and his patience and understanding always promotes an atmosphere of creativity that is frequently elusive in other situations with clients and colleagues alike
Jack Schultz | Actor, Director, Writer
–
Jason is a highly unique photographer with a strong creative focus and flexible to the needs of the client or model. Willing to take risks to deliver a great photo and very efficent with the post-production and final product. Also extremely fun to work with and highly personable!
Amber Osborne | Chief Marketing Officer of Meshfire
–
Jason is multi talented and can do many functions on a tv/film/still set. We have worked together on many jobs, and the ease he has on set is a great unique ability. I would recommend him highly for your motion or still needs.
Laura Roeper | Prop stylist, Producer, Sr. Art Buyer
–
Jason has recently joined our production team and his work has surpassed our expectations. He has brought fresh ideas and a new perspective to all the projects he has worked on. His wide range of experience allows him to contribute to many stages of the production process, (photography, video, lighting, sound, editing, etc.).
Sebastien Audinelle | Steadicam/Camera Operator
–
Jason has a great visual sense. He makes creative use of what's available (which really helps with budgeting). The band I'm in – The New Loud – will continue to hire him for photo and video work because the results look fantastic and he's fun to work with!
_
Jason is a very professional director. He's remarkably creative, and is willing to try anything to grab the viewers attention. He's also a joy to work with.
_
Jason was great to work with on Heaven is Hell. He was professional and polite and really was great on the set with the cast and crew. It would be a pleasure to work with him again.
David Bertucci | Actor, Producer
_
I've had the opportunity to work with Jason several times on varied shoots with very different constraints and he has gone beyond expectation each time. I would continue to hire him and would recommend him to others.
Jennifer Hyman | Interior Designer & REALTOR
_
I worked with Jason on a recent film. He is very professional as well as personable. He knows what he wants, and how to get it. He will be a vital asset to any production that is in need of his services. I look forward to working with him again.
Garret Popek | Special Effects
_
Jason is DRIVEN! It's not often you get to work with a truly creative brain that also gets the mechanics and business end too. I've hired Jason as a photographer--he was punctual, full of ideas, put his subjects at ease and was adventurous in scouting for shoot settings. I've also worked as an actor on two movies he was involved with. As cinematographer on Heaven is Hell, he interacted with cast & crew alike with a friendly, helpful attitude, alternating between straightforward and crazy-artistic shots, scenes and scenery. I've also just worked with him on a 48-hour guerilla film fest contest. Give this guy an idea or genre and he hits the ground running. I think it speaks to his congeniality & work ethic that he & his partner were able to write a script, round up a phenomenal cast & crew of 25+ to spend 12 hours shooting an 8-minute film, gratis, and then edit and finish the whole thing in a 48 hour period. It was amazing that he can be that creative & artistic, genuinely nice & friendly, and maintain his good spirits on little to no sleep. Short term or long term, I'd work with Jason again in a heartbeat.
Sherry Winchester Schultz | Actress, Director
_
Jason ranks on the far right side of the bell curve when it comes to his creativity. His shot concepts and shot composition constantly exceeds the expectations of every director he works with. Where many cinematographers are inclined to simply go for a good looking shot, Jason does that, while also tailoring the shot to accentuate actors' performances, Set Decoration, Special FX, and more. Jason will continue to exceed all expectations, and will significantly increase the quality of any project he works on. I would highly recommend him anytime, to anyone, as would any of the other people he has worked with.
William Huddleston | Art and Makeup Dept
_
Jason approaches his work with passion, professionalism, and service. His work ethic is only overshadowed by his artistic curiosity. His willingness to take risks on set and improvise allows our collaborations to find new avenues of expression. Organized, Fun, Open and Intelligent are how I would describe my fellow artist. I look forward to many co-productions between JACENK & RUSTED:BLUE in the future and growing my company with talented team players like Jason Kraynek.
Tyler Lennox Bush | Creative Producer, Director
_
Working with Jason was a great experience. His energy, enthusiasm, sense of humor and desire to produce a high quality and imaginative product was inspiring, if not contagious. Having Jason on your crew call list is an ace up your sleeve; he's truly an asset on any set.
Brian Lynn | Creative Director
_
Jason is a fantastically creative and well rounded individual. His photography is consistently engaging and interesting while his work ethic remains unshakeable. He has no problem contributing to a team or taking the position of leader. I look forward to projects that include Jason Kraynek.
Jeffrey Foster | Sales, Event Design
_
Jason is an excellent photographer who is able and willing to go the extra mile to get the job done. He has a great sense of humor, is quite nimble when called upon to shoot at difficult angles and is dedicated to producing the best possible product for his client. I highly recommend him.
_
Jason is an excellent mentor and teacher... A great instructor, and a better friend...
Rodney Glassburn | Lighting Director
_
Jason Kraynek is perhaps one of the most dedicated individuals I know. He is a hard worker with ethics. His ability to initiate a project and see it through to the end it possibly his most regarded atribute. A project leader who's ability to maintain control and planning allows for progress. Jason Kraynek is a prompt and diligent person. His ability to communicate within a company is outstanding, his willingness to achieve goals by deadline is impeccable. I would highly recommend him for advancement.
Joe Davison | Director, Producer, Actor
_
Jason is a great person to work with. Friendly and enthusiastic. Gets the job done, plus more, no questions asked. Always goes the extra mile to deliver a high-quality product and is great with customer service.
Marco Bernal | Mortage Loan Officer
_
My photographic and video work with Jason has ALWAYS been a pleasure. Extremely professional, and consistently innovative. As a photographer and videographer, he is always a positive force in the project. I've been pleased with the results each time. Honest, helpful insights.
Whitney Kraus Jones | Actor, Musician
_
Jason is amazingly gifted at what he does. He has a way of making an instant rapport that is professional, yet makes you feel at ease. And the results?...amazing, in a word. The results of my photo shoot made me feel like a rock star.
_
Jason is one of the most creative photographers I have ever worked with. I hired Jason to photograph a student workshop that was initially labeled as "routine" and Jason's fantastic photography provided a colorful photo story. His photos brought the college-prep programs to life and enabled to students and program managers see the positive impact of their work. I also recommended that my company's local office hire Jason for another event. I highly recommend Jason and hope we work together again.
_
Jason was a great guy to have on show site. He is creative and dependable. He always has a good attitude and I would not hesitate to hire him in the future.
Nicole (Shafer) Potts | Design Producer
_
We loved Jason's work, and would absolutely hire him again!
Rachel Kraska | Director of Talent, Performer
_
He is such a great photographer, especially in the field of band and fashion photography. He has a unique style for photography. Especially his lighting technique is incredible. He had a photo shoot with this band, AIRIEL from Chicago and they loved and were satisfied with his work. I recommend you work with him if you look for someone who could give you both of quality and creative work being up to your expectations and more.
_
I worked with Jason at Event Creative for quite some time. His demeanor was that of an absolute professional, and yet he still retained the enjoyable, sociable and laid-back personality which makes working with Jason a joy. Reliable, involved, on-task, enjoyable and well thought out are all words I would use to describe Jason's' work. Any chances I get to work with Jason in the future, I look forward to greatly.
Aaron Patkin | Lead AV Contractor
_
Jason is both a creative and organized individual. In our time at Event Creative I had the pleasure of working Jason and watching him coordinate with local crews to ensure an efficient and accurate execution of his tour sites. He is certainly a positive addition to any situation.
Josiah Alloway | Court Technology Specialist
_
I worked with Jacen at Blockbuster Music/Wherehouse Music and then again with First American Equity Loan Services. Jacen is great with people and has a personality that makes people comfortable and at ease. He is hard working and routinely meets deadlines. Jacen is able to learn new things very quickly, also. He is great to work with and I think he would be assest to any employer in any field!
_
I loved working with Jason! From the first email, he has been nothing but spectacular in his planning, punctuality, and execution of the photoshoot. Even when I asked him to take another look at pictures we decided had been finished, his workmanship and energy never waned. He's done only when the client is truly finished, and his eye for the creative, even with seemingly banal subjects, never tires. I would certainly recommend him again and again...
_
Jason was very accommodating and worked well very well under pressure. I appreciated his input and his creativity added that extra element to my project!
_
Jacen is, by far - the best photographer I have ever worked with. His photos and other artistic ventures are greatly inspiring and I would highly recommend him.
Leanne Erin Scanlon | Retail Owner
---